My Blog
Posts for: April, 2021
By Michael F Cronin, D.D.S
April 20, 2021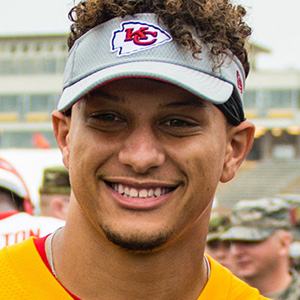 Kids get pretty inventive pulling a loose primary (baby) tooth. After all, there's a profit motive involved (aka the Tooth Fairy). But a young Kansas City Chiefs fan may have topped his peers with his method, revealed in a recent Twitter video that went viral.
Inspired by all-star KC quarterback Patrick Mahomes (and sporting his #15 jersey), 7-year-old Jensen Palmer tied his loose tooth to a football with a line of string. Then, announcing "This is how an MVP gets their tooth out," the next-gen QB sent the ball flying, with the tooth tailing close behind.
It appears young Palmer was no worse for wear with his tooth removal technique. But if you're thinking there might be a less risky, and less dramatic, way to remove a loose tooth, you're right. The first thing you should know, though: Primary teeth come out when they're good and ready, and that's important. Primary teeth play an important role in a child's current dental and speech function and their future dental development. For the latter, they serve as placeholders for permanent teeth developing within the gums. If one is lost prematurely, the corresponding permanent tooth might erupt out of position and cause bite problems.
In normal development, though, a primary tooth coming out coincides closely with the linked permanent tooth coming in. When it's time, the primary tooth lets you know by becoming quite loose in the socket.
If you think one of your children's primary teeth is ready, clean your hands first with soap and water. Then using a clean tissue, you should be able to easily wiggle the tooth with little tension. Grasp the tooth with the tissue and give it a little horizontal twist to pop it out. If that doesn't work, wait a day or two before trying again. If it does come out, be sure you have some clean gauze handy in case of bleeding from the empty socket.
Normally, nature takes its course from this point. But be on the lookout for abnormal signs like fragments of the tooth left behind in the socket (not to be mistaken for the top of the permanent tooth coming in). You should also look for redness, swelling or complaints of pain the following day—signs of possible infection. If you see anything like this, make a prompt appointment so we can take a look. Losing a primary tooth is a signpost pointing the way from childhood to adulthood (not to mention a windfall for kids under their pillows). You can help make it a smooth transition—no forward pass required.
If you would like more information about caring for primary teeth, please contact us or schedule a consultation. To learn more, read the Dear Doctor magazine articles "Importance of Baby Teeth" and "Losing a Baby Tooth."
By Michael F Cronin, D.D.S
April 10, 2021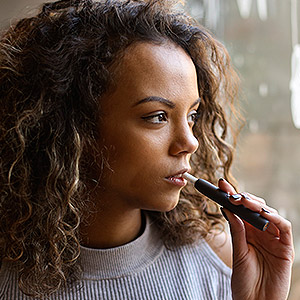 It wasn't too many years ago that e-cigarettes were promoted as a healthier alternative to traditional cigarettes. "Vaping" was in and "smoking" was out.
But vaping's recent link with certain lung disorders, especially among younger users, has slowed the promotion train down considerably. And if respiratory health isn't enough, there's another reason to be wary of the practice—it's possible effect on oral health.
An e-cigarette is a handheld device with a reservoir that holds a mixture of water, flavoring, nicotine and other chemicals. The device heats up the liquid to transform it into a vapor that's then inhaled by the user. Technically, the vapor is an aerosol, a gaseous substance containing solid particles from chemical compounds.
Within this aerosol are a number of ingredients that can have a harmful effect on your teeth and gums. Foremost among them is nicotine, a chemical that's also a major ingredient in regular tobacco. Nicotine causes constriction of blood vessels, including those supplying the teeth and gums.
As these vessels constrict, they deliver to the teeth and gums fewer nutrients and antibodies to control infection. As a result, users of nicotine products, whether tobacco or e-cigarettes, will have a compounded risk for dental disease over a non-user.
E-cigarettes may in fact be worse than regular cigarettes in regards to nicotine. Cigarette nicotine is primarily inhaled into the lungs, while e-cigarette nicotine is absorbed by the mouth's mucous membranes, a much more efficient transfer. It's estimated that the amount of nicotine in one e-cigarette cartridge equals the nicotine from 20 cigarettes.
Nicotine isn't the only ingredient in e-cigarettes that could harm your mouth. Chemicals within the flavorings can irritate and dry out the mucous membranes of the mouth, as well as damage tooth enamel. There are a variety of other chemicals present like formaldehyde that could raise your risk for oral cancer.
Rather than a healthy alternative to smoking, e-cigarette users may simply be trading one form of health risk for another—and, in the case of your oral health, just as bad or worse. The best alternative for healthier teeth and gums is to leave both habits—smoking and vaping—far behind.
If you would like more information on vaping and oral health, please contact us or schedule an appointment for a consultation. You can also learn more about this topic by reading the Dear Doctor magazine article "Vaping and Oral Health."