My Blog
Posts for: January, 2021
By Michael F Cronin, D.D.S
January 20, 2021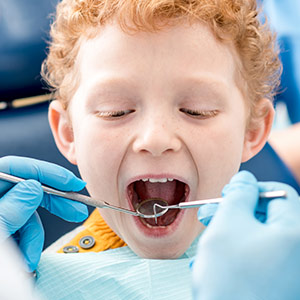 Tooth decay can be a big problem for children's primary (baby) teeth. It doesn't take long for a tooth to become infected and the infection spread to their neighbors.
But since it will eventually give way to a permanent tooth, why not just pull a diseased primary tooth? Although that sounds sensible, there are important reasons for helping a troubled primary tooth survive to its natural end.
Current usefulness. They may not be around for long, but primary teeth serve children well while they have them. They enable a child to eat solid foods to further their physical development. They also figure prominently in speech development, which could be stunted by lost teeth.
The smile factor. Young children are also honing their social skills, and smiling is an important part of learning to fit in with family and friends. A tooth that's missing for some time, especially in the "smile zone," could affect their smile and have an adverse effect on their social development.
Future teeth health. A primary tooth reserves the space intended for the future permanent tooth, helping to ensure the incoming tooth erupts in the right position. If it's not there, however, other teeth can drift into the space, crowding the incoming tooth out of its proper alignment.
That last reason could have the most long-term effect, causing the development of a poor bite that could require extensive orthodontic treatment. To avoid this and any other physical or social consequences accompanying its premature loss, it's worth the effort to try to protect and save a primary tooth.
Preventively, we can apply sealants on biting surfaces more prone to plaque buildup (the main cause of decay) and topical fluoride to strengthen enamel. When decay does occur, we may be able to remove it and fill the tooth, cap a tooth with a steel crown, or even use a modified root canal procedure in the case of advanced tooth decay.
The best way, however, to protect your child's primary teeth is to brush and floss them every day. Removing harmful plaque vastly reduces the risk of tooth decay. Coupled with professional dental care, your child can avoid tooth decay and get the most out of their primary teeth.
If you would like more information on children's dental care, please contact us or schedule an appointment for a consultation. You can also learn more about this topic by reading the Dear Doctor magazine article "Importance of Baby Teeth."
By Michael F Cronin, D.D.S
January 10, 2021

If you're into social media, you might have run across the idea that there's nothing to straightening your teeth. According to some SM influencers, you can even do it yourself with a few rubber bands. But the truth is, the mechanics of moving teeth are much more complex—and taking orthodontics into your own hands can cause extensive dental damage.
In reality, all bite problems (malocclusions) require the advanced knowledge and expertise of an orthodontist to correct them safely and effectively. Some, in fact, may require other devices along with braces or clear aligners to achieve the desired outcome for a particular malocclusion.
Here are a few of those additional tools an orthodontist may use and why they may be needed.
Headgear. Some malocclusions result not just from misaligned teeth, but problems with jaw or facial structure development. To accommodate additional factors like this, an orthodontist may include headgear during treatment, usually a strap running around the back of a patient's head or neck and attached in the front to brackets bonded to the teeth (usually the molars). Wearing this headgear for several hours a day can improve jaw and facial development.
Elastics. Unlike basic rubber bands DIYers might use to move their teeth (often with damaging results), elastics are specialized bands designed for targeted tooth movement. They're needed for bite problems that require moving some teeth and not moving others. As such, elastics can be applied in conjunction with braces to perform either intended task—move or prevent movement for specific teeth.
Anchorage. One of the tools often used with elastics for targeted tooth movement are temporary anchorage devices (TADs). These are typically tiny screws imbedded into the jawbone a short distance from fixed braces. An elastic band connected to the braces at a specific point is then attached to the TAD, which serves as an anchor point for the elastic.
These and other devices can help orthodontists achieve a successful correction for certain individual bite problems. And unlike the DIY methods touted on the Internet, these additional tools help them do it safely.
If you would like more information on straightening teeth through orthodontics, please contact us or schedule an appointment for a consultation. You can also learn more about this topic by reading the Dear Doctor magazine article "Orthodontic Headgear & Other Anchorage Appliances."