My Blog
Posts for: December, 2018
By Michael F Cronin, D.D.S
December 11, 2018
Around 20 million people—mostly women after menopause—take medication to slow the progress of osteoporosis, a debilitating disease that weakens bones. But although effective, some osteoporosis drugs could pose dental issues related to the jawbones.
Osteoporosis causes the natural spaces that lie between the mineral content of bone to grow larger over time. This makes the bone weaker and unable to withstand forces it once could, which significantly increases the risk of fracture. A number of drugs have been developed over time that stop or slow this disease process.
Two of the most prominent osteoporosis drugs are alendronate, known also by its trade name Fosamax™, and denosumab or Prolia™. While originating from different drug families, alendronate and denosumab work in a similar way by destroying specialized bone cells called osteoclasts that break down worn out bone and help dissolve it. By reducing the number of these cells, more of the older bone that would have been phased out lasts longer.
In actuality this only offers a short-term benefit in controlling osteoporosis. The older bone isn't renewed but only preserved, and will eventually become fragile and more prone to fracture. After several years the tide turns negatively for the bone's overall health. It's also possible, although rare, that the bone simply dies in a condition called osteonecrosis.
The jawbones are especially susceptible to osteonecrosis. Forces generated by chewing normally help stimulate jawbone growth, but the medications in question can inhibit that stimulus. As a result the jawbone can diminish and weaken, making eventual tooth loss a real possibility.
Osteonecrosis is most often triggered by trauma or invasive dental procedures like tooth extractions or oral surgery. For this reason if you're taking either alendronate and denosumab and are about to undergo a dental procedure other than routine cleaning, filling or crown-work, you should speak to your physician about suspending your medication temporarily. Dentists often recommend a suspension of three to nine months before the procedure and three months afterward.
Some research indicates this won't worsen your osteoporosis symptoms, especially if you substitute another treatment or fortify your skeletal system with calcium and vitamin D supplements. But taking this temporary measure could help protect your teeth in the long run.
If you would like more information on the effect of osteoporosis treatment on dental health, please contact us or schedule an appointment for a consultation. You can also learn more about this topic by reading the Dear Doctor magazine article "Osteoporosis Drugs & Dental Treatment."
By Michael F Cronin, D.D.S
December 01, 2018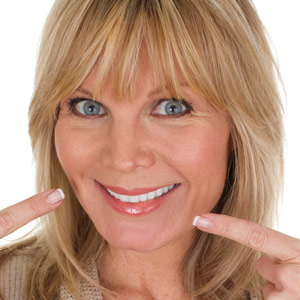 Dental implants are popular with both patients and dentists for their durability and likeness to natural teeth. That natural look, though, can be difficult to attain, especially in what's known as the "smile zone" — the area of the mouth where teeth are most visible when you smile.
Our biggest concern is the upper front teeth, where the gums are most visible, especially if you smile widely. It takes considerable skill, experience and artistry to position implants in this area so that they appear to naturally emerge from the gums and blend well with other teeth.
To obtain that natural look, we must first assess whether or not there's enough bone present, which tends to dissolve (resorb) when a tooth is missing, to sufficiently anchor the implant in the right position. There also needs to be sufficient bone around adjacent teeth to support the tiny triangles of gum tissue between teeth called papillae. Without the papillae an unattractive black hole may result between the implant and an adjacent tooth or implant.
Another factor we must consider is the type of gum tissue you have. Everyone generally inherits one of two types of tissue from their parents: thin or thick. The type you have can influence the way the implant appears to emerge from the gums. If you have thick gums, they're easier to work with and can cover more of the implant. Thinner tissues aren't quite as easy and are less forgiving if an implant isn't placed as precisely as possible.
In recent years, improvements in implant design have sought to provide greater stability around bone and gum tissues to offset some of the issues we've mentioned. A variation on the design of the top of the implant (where the crown is attached) changes the direction of growth for gum tissues from a horizontal orientation to a vertical one, which can help with the final appearance.
The first step, if you're considering dental implants for a tooth in the smile zone, is to visit us for a complete examination to see if any of these factors may have an impact on your situation. We can then advise you on the best course of action to achieve the most attractive smile possible.
If you would like more information on dental implants, please contact us or schedule an appointment for a consultation. You can also learn more about this topic by reading the Dear Doctor magazine article "Implant Aesthetics."