My Blog
Posts for category: Uncategorized
By Michael F Cronin, D.D.S
August 28, 2021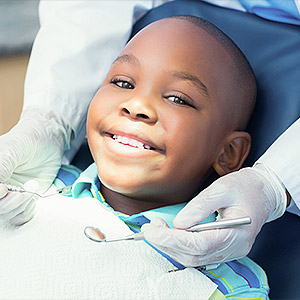 Your child's dental development is in overdrive between birth and early adulthood. The rapid growth of the teeth, gums and jaws occurs mostly on its own—but tooth decay could significantly derail it.
Although most cases of dental disease occur in adults, tooth decay is a major problem for children, particularly involving primary teeth. These teeth are much more important than they seem given their short lifespans: Because they help incoming permanent teeth to align properly, their premature loss due to decay can create future bite problems.
To prevent this from happening, taking steps to prevent tooth decay in young children is well worth the effort. The best strategy is a double-pronged approach. You'll first want to address certain areas that directly contribute to tooth decay. You'll then want to add measures that strengthen the teeth themselves against the disease.
In regard to the former, reducing the levels of harmful bacteria in the mouth tops the list. These bacteria produce acid as a byproduct that in turn softens and erodes enamel, the teeth's natural barrier against decay. We reduce bacteria by eliminating dental plaque, a film of built-up food particles that feeds and shelters bacteria, through daily brushing and flossing.
Certain dietary choices may also contribute to bacterial growth. Refined sugar is a prime food source for bacteria, so limiting it in the diet will help reduce tooth decay. Furthermore, a diet rich in whole, unprocessed foods and dairy provide nutrients strengthen teeth against decay.
The other prong in defeating tooth decay mainly involves protective measures provided by your dentist. Sealants applied to the chewing surfaces of a child's teeth help protect the enamel from the buildup of bacteria in these highly susceptible areas. An occasional direct application of fluoride to teeth further strengthens their enamel, and makes them less susceptible to decay.
This approach can minimize the chances of tooth decay, but it won't eliminate the risk altogether. If it does occur despite your best efforts, prompt treatment can limit the damage and preserve the teeth. Working with your dentist, you can help ensure your child's teeth are protected from this damaging disease.
If you would like more information on best dental care practices for children, please contact us or schedule an appointment for a consultation. You can also learn more about this topic by reading the Dear Doctor magazine article "Dentistry & Oral Health for Children."
By Michael F Cronin, D.D.S
January 10, 2019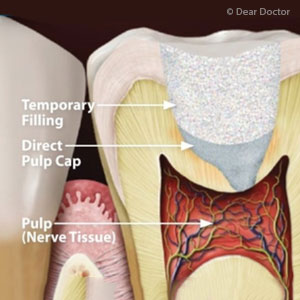 There's one sure thing about tooth decay: you can't ignore it. In fact, the best outcomes result from finding it early and treating it before it enters the pulp in the center of the tooth, often a filling or similar treatment.
If it does advance to the pulp, you may need a root canal treatment to save the tooth. This is a moderately invasive procedure where we access the pulp and root canals, tiny passageways leading to the root and supporting bone. We then remove all the diseased tissue and fill the empty pulp chamber and root canals with a special filling. Later we'll crown the tooth for added protection against future infection or fracture of the tooth.
But there's also another less-invasive method than a root canal called pulp capping. It's only appropriate to use, however, if the pulp has become exposed or almost exposed by decay, but hasn't yet shown signs of disease.
Pulp capping can be either direct or indirect. We use direct pulp capping if the healthy pulp has been exposed by the disease process. We first isolate the tooth from the rest of the mouth to prevent contamination and then proceed to remove all of the tooth's decayed dentin structure. We then apply a biocompatible material directly over the pulp to protect it from further decay and to facilitate healing. We then restore the tooth, usually with a filling, to its proper function and life-like appearance.
When the pulp is threatened by decay but not yet exposed, we may then use the indirect method. In this approach we first remove most of the decayed dentin, but leave a small amount next to the pulp to keep it covered. We then treat this remaining dentin with a material to help it heal and re-mineralize, followed by a temporary filling of the tooth. A few months later we'll remove this filling and inspect the treated dentin. If it has regenerated sufficiently, we remove any remaining decay and permanently restore the tooth.
As we said, pulp capping is only used with patients with deep decay whose pulp tissue is healthy. But when we can use it we can avoid some of the permanent alterations that often come with a root canal treatment and still save the tooth.
If you would like more information on treatments for tooth decay, please contact us or schedule an appointment for a consultation. You can also learn more about this topic by reading the Dear Doctor magazine article "Pulp Capping: A Procedure that May Save a Decayed Tooth."