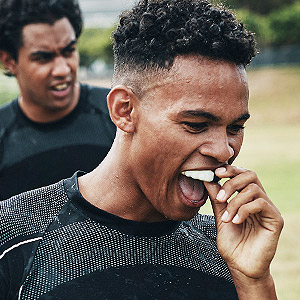 Disasters are an unfortunate part of life—and not just on the epic scale of a hurricane, flood or earthquake. You could easily find yourself having your own "personal pizza"-sized disaster—a car accident, a sports injury or even a tumble on a leisurely hike. And oftentimes, the consequences could affect your mouth, teeth or jaws.
We can't always account for every variable in life, but we can prepare for possible disasters, big or small. That includes being ready for a possible dental injury.
September is National Preparedness Month, when safety and emergency professionals seek to raise awareness about what people can do to prepare for when disaster strikes. When it comes to protecting you and your family's oral health, here are a few things you can do to stop or lessen the impact of a dental injury.
Use a mouthguard. These soft, plastic appliances that fit in the mouth cushion the force of a hard blow to the face and jaws. They're a must for any contact sport like football or basketball, but also for other outdoor activities like trail biking. It's also worth the investment in comfort and effectiveness to have your dentist create a mouthguard customized just for you.
Create a dental first aid kit. It's a good idea to carry along a first aid kit during sports or other physical activities. It's a great idea to include a few extra items in case of injuries to the teeth or gums. A dental mirror and flashlight, medical-grade gloves, "Save a Tooth" kits (for knocked out teeth) or even tea bags to help stop bleeding gums are handy to have if you or someone with you suffers a dental-related injury.
Know what to do in case of dental injury. As careful as you might be, you can't completely eliminate the risk of dental injury, so it's wise to know how to render specific first aid for a variety of mouth-related injuries. To that end, we've provided a free dental injury field guide that you can print to review or to include in your emergency first aid kit.
Locate dental providers away from home. Serious injuries that result in loose, knocked out or misaligned teeth need immediate dental care. No problem if your regular dentist is close at hand—but what if you're out of town or on vacation? Before you go, locate a dental provider at your destination that you can see in case of emergency, and keep their contact information close at hand.
It's no fun going through an adverse event, especially with the possibility of injury. It's even worse to meet disaster unprepared. By following these guidelines, you can have a better handle on the injury risks to you and your family's dental health.
If you would like more information about protecting your teeth from injury, please contact us or schedule a consultation. To learn more, read the Dear Doctor magazine article "An Introduction to Sports Injuries & Dentistry."